Sorry, guys. The word "dick" was used too often in this episode to pass this up:

Hammer of the Gods Squee Post

When Sam and Dean are in an episode, I usually have a lot to say about them that looks like this.

A lot of you are probably expecting this to be a negative review from my Tweets, but it's not! Olivia talked me off the ledge. Mostly it feels like this: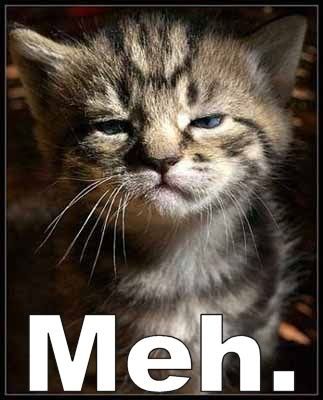 But not in a bad way, just in a whatever way.

Recap excited me because the Trickster/Gabriel/Whatever was in it, but then worried me because there was SO MUCH about Michael in it and I had a moment where I believed all those "Because Dean said yes Michael was in there--that's why he could kill Zachariah!" theories and I nearly shit myself because that would mean that kickass moment and the reconciliation were all a sham and just...no. Yay to unfounded worries!

Ok, so, I was actually really excited about this episode because, as you all well know, I am a big Disney geek and, thanks to the Tower of Terror, I have a huge soft spot for scary hotels. I wish we had done that in a throwaway episode and not in one so intensely tied to plot because we didn't get to explore it at all and, had mercury gotten to just be a legit creepy concierge, I would have spent the night remembering that one guy who worked on the Tower of Terror and scared the ever loving crap out of me a few years ago and I would have been freaked and it would have been awesome. And then I could wear my Hollywood Tower Hotel bathrobe and feel really nerdy and generally pleased with myself.

The Elysian Fields--I C WUT U DID THAR, SHOW. ♥_♥

"It's like Heaven, isn't it."
"Better, trust me."
SO SAD. ALL DEAN WANTS IS SOME PIE.

"It's Noah's Arc out there and we're eating pie." - Oh, Sammy. Will Dean never be classy enough for you?

DEAN SAID NO ONE IS GIVING UP. ESPECIALLY NOT HIM. THIS DEAN. I HAVE MISSED HIM FOR SO LONG, OMG. DEAN. DEAN. DEANDEANDEANDEAN.

AHAHAHAHA--she rejected him twice. This has never happened to Dean Winchester with a girl before. Especially not when the girl was his brother.

Anyone else catch how miffed Sam's face was when Dean sat down after hitting on Kali? Coincidence? NOT.

OK. I really adored how amused Dean was by that couple on their honeymoon and how Sam kept being scoffy about it. "What are you, twelve?" "I'm young at heart." THEY ARE ACTING LIKE BROTHERS, YOU GUYS. DEAN IS ALIVE AND BEING PERVY AND SAMMY LOVES HIM SOOO MUCH WHILST ALSO BEING LIKE "YOU'RE AN IDIOT." TYRDFYGHJHBUYTRGV.

And then they get in the room and Dean is all "CASA EROTICA! *_*" and finally Sam smirks when they start having really loud sex. Ya know why? Because Dean wants to have competing-to-see-who's-louder sex and Sam knows how loud he can make his big brother cry.

When Dean picked up that wedding ring? Sam is just off in the shot like "Oh! Oh! Please let him give it to meeee!" When he gives Dean the Samulet, Dean will sooo reveal that he stopped by that front desk and swiped that ring for his forever girl.

I am so heart broken by what they did to this Dean. Look at how adorably excited he got about spending one night in a decent hotel without having to worry about the Apocalypse now that he and Sam have made up. He wanted to make everything up to Sam and after everything, they cannot have one little night off! He's not asking for Heaven, he's not even looking for the Grand Canyon anymore. And they won't even let him have one quiet night to have make-up sex with his brother.

Jensen makes the funniest faces. His creeped face after the elephant guy was priceless.

Barbar reference #2 this season! So, I was going to make a simple joke about how him continuously bringing it up sounds a lot like my incapability to talk to people IRL without jumping on every chance to make a Supernatural reference and how Dean obviously writes Babar the Elephant fanfiction. Then, just for shits and giggles, I looked up if Babar has a brother because I was going to be like "Dean's OTP!" But...guys...Babar the Elephant? Married his cousin Celeste. In canon. Canonical incest in Dean's children's books. And now he has a fixation because of how much that story resonated with him. Juuuuuuuuuuuuust fucking saying.

Sam says something about them being travelers and getting waylaid by a storm and how that should make them suspicious. Good for you, Sam, you read the Odyssey!

Jensen so PRETTY--GODDAMN.

First commercial break, or: Those five minutes you spend frantically googling all of these gods before the show gets back. Don't pretend you didn't do it, too, bitches.

Loved how most of these gods made no sense for the nationality they were cast to represent.

Baldur was fucking hot. I'mma fuck me some Baldur.

"DON'T MOCK MY WORLD TURTLE." - LOLOLOL.

And I loved the black guy replying to the Asian guy all "Don't you talk to me in that tone of voice." I thought their petty fighting was really clever. "Don't call me boy, I'm older than you!" "That's never been proven!"

"And I myself will get eaten by a big wolf." - Loved how proud of this he was.

Ok, ya'll know I don't say this about females very often. But Kali? Was one hot bitch (and I'm not just talking about when she's on fire).

Calling Gabriel Loki. *sigh* I am back to being annoyed and, yeah, I wish he was Loki, ya'll.

"Ok, did that--HOLY CRAP!" - BOYS. I loved this because 1) it sounded like a real response and 2) it was just funny to me, IDK.

"Next time I say keep driving...WE KEEP DRIVING." - Sam wanted to keep driving in the storm. Dean wanted to pull into the nice hotel and have a night off. Sam still thinks Dean wants hunting on the road forever. Dean still thinks Sam wants to settle down and be normal forever. And now that they are okay again, they are once again putting their own desires on the back burner to try to give each other what they want. Oh, the day you boys realize you can meet each other halfway because you really want the same things. I will turn into mush. ♥_♥ Season 6, for the Win(cest).

"Bite me, Gabriel."
"Maybe later."
Ok, so everyone who threw a shit fit about ~OMG, SO MUCH DEAN/CAS IN THIS EPISODE!11!1~ last week and especially you weirdos who started shipping it, see what Dean did there? Same thing he did to Cas last week. He made a fucking joke. If Dean and Castiel are in epic love because Dean sniped "Blow me, Cas," then Dean and Gabe are pretty engaged, too, huh? Your subtext analyzing skills, FAIL.

As to Gabe's reaction to the and just his banter this entire scene. *sigh* I liked that. That actually felt like the Trickster.

He's here to save their asses! I can buy that. Let's track how far I can buy this throughout the narrative! It'll be like a fun little activity.

"You're uberboned." and "You were uberboning us." -- Sooooo...who else is going to use the expression "uberboned" all. the. fucking. time. from now on?

"Lucifer's gonna turn them into finger paint." -- I thought this was a really awesome line, especially coming from someone who knew him so well, to make him really terrifying. I, uh, didn't realize how literal it was.

DEAN IS GOING TO RIDICULOUS LENGTHS TO SAVE THE INNOCENTS. BECAUSE HE IS DEAN FUCKING WINCHESTER. OH, DEAN. YOU HAVE A LOVELY ERECTION. *_*

Except that poor fucker. Hah, whoops.

Gabriel made a Pandora joke! I approve!

Aww, him and Kali were kind of cute. I shipped it in a totally uninterested way! But this is kind of where I started to stop buying it. The Trickster/Gabriel/Whatever is supposed to be fun times. Giving him this connection doesn't make sense for him. It didn't work for me. But I would have let it slide if this was the only thing, because they were pretty cute.

I WILL NEVER GET TIRED OF THE FACT THAT DEAN LETS SAM PICK THE LOCKS TO FEEL USEFUL. <3_<3

Wow. That guy just walked right in and literally went straight to choking Sam. Must be Thursday.

OH MY FUCKING GOD, THAT GHOSTFACERS COMMERCIAL WAS SUCH AN EPIC FAIL. For two seconds, I thought I was going to have to put up with those annoying fuckers, and even when I realized I wasn't, it just took me so out of the moment. I swear, it made the whole episode worse. Fucking fanservice failure in this episode was incredible.

I liked that moment when Gabriel was in the fire with the boys. If this episode had happened earlier in the season and they had not killed Gabriel, this moment would have really made the speech he gives later on believable.

Ok. Now anyone can kill an angel with an archangel's blade. Sure, Show. Whatever you need to tell yourself to sleep at night.

Kali's speech about Western arrogance was awesome! Annnnddd at least 40 years outdated. Now is an excellent time to address how hard this episode failed because of its desperation to make up to the people who were upset that, by making the Trickster an archangel, they completely took away the legitimacy of any other religion. Guess what, Show, in your attempt at fanservice, you made the problem worse. Because, sure, you brought in some other religions, but then you showed how inferior they were in a million different ways:

First of all, since when does Mercury eat people? Just because they were pagan/not!Judeo-Christian Gods, they were monsters.

Second, by having them throw in that discussion about how they existed before the angels and everything they completely destroyed the mytharc (and yes, I know we'll ignore this, but it annoys me). We chose in Season 4 to go with the Judeo-Christian religious views, so that's what we have to stick to, ergo, the Christian God created the universe and was always above all others. So these Gods basically saying that they existed and had power as long as people believed in them? Makes no effing sense.

Third, having Lucifer come in and literally turn them into finger paint without trying basically says "You can have your religions, but they are embarrassingly impotent next to ours." Now, I'm not someone who gives a shit about religion, but I find that a lot more offensive than taking away the pagan God and making him an angel.

In conclusion: Everybody loves fanservice. Cas being hilariously drunk and angels calling the Boys erotically codependent, that stuff is fun and all fine because it doesn't get in the way, it's just little lines here and there to make us happy. But when you take fanservice to this level? You are sacrificing your ability to tell the story you are trying to tell.

Trickster using a body double fake when someone is trying to kill him getting kind of old and starting to lack its punch. I was not fooled for a second the first time. BUT that just made the ending more awesome and surprising.

Loved Dean for coming in and saying every offesive thing he could possibly think of. "Primitive screwheads." And poor Sam is just there like "SO pretty, but SO dumb."

"Or you lame ass bitches can eat me. Literally." -- *swoons*

Dean is butt buddies with monsters! Is now a bad time to point out that Sammeh is half-demon? ;)

Dean sees through your woobiedom, Gabe. He *invented* wobbiedom. And, while we're applying that logic, he probably also knows you want to ride your brother's cock.

"I can't kill my brother."
"Can't or won't."
...
...
Dot dot dot.
Uhhhh...writer's room...don't you think Dean Winchester would be a little more sympathetic about that? Especially this Dean who has his affection for Sam back?
...
FAIL.

DUDE, SAM. NO GETTING THE MARKS OFF YOUR RIBS. THE MARKS ON YOUR RIBS ARE A VERY GOOD IDEA, BABY BOY.

ZOMFG. LUCIFER IS CHECKING IN. HELL TO THE FUCK YEAH. *bouncy bouncy bouncy*

And he's a cunt! Oh, Lucifer!! <333333

DUDE. LUCIFER JUST COMING IN AND KILLING EVERYONE LIKE HE IS SWATTING FLIES. THERE WAS A PAINTING ON THE WALL THAT GETS SPLATTERED WITH BLOOD AND OMG, FINGERPAINTING WILL NEVER NOT BE SCARY TO ME AGAIN. FUCKING FINALLY. A LUCIFER I CAN LIVE IN FEAR OF. YESYESMOTHERFUCKINGYES. I guess that now that we don't have Zachariah to live in fear of (BECAUSE DEAN!CAKES WASTED HIM, FUCK YEAH), we are finally going to see why Lucifer is such bad news, after months of being told and not shown.

"We take it." -- HAND THROUGH HIS CHEST. OMFG. HE IS A BAD MAN. I AM AROUSED BY HOW FUCKING BADASS THIS WAS. My notes on this scene? I literally just started scribbling on the page because I needed to give my squee a physical vent.

AND MY VOLUME CUT OUT DURING THIS SCENE. Given, it was for maybe two seconds in a fight. BUT I WAS TERRIFIED.

"LUCI, I'M HOME." -- AHAHAHAHAHHA. YES. THAT'S THE TRICKSTER I LOVE TO HATE!

"I knew you were slumming, but..." -- Wow, Lucifer. Your utter disgust at the idea of your brother having sex with a girl was not subtle, my friend. Lucifer is a faggy faggy fag. An incestuous one, at that. Gabe/Luci--do I ship it? You bet your sweet dangly balls I do. Also, I felt cool because I learned about the history of slumming in that sexuality class I hated last semester!

"You're a great big bag of dicks."

"Watch your tone."

BROTHERLY BANTER. So well done!

I really liked the bitterness in the "he brought the new baby home and now you're throwing a temper tantrum" speech. I thought that was such a clever metaphor. It made them so human to me.

"Dad was right, they are better than us."
"They are broken, flawed."
"Damn right they're flawed, but they try to improve, etc. etc. etc."

"I'm not on your team or on Michael's, I'm on theirs."

This was a really interesting interaction, don't get me wrong here. I have been gunning for Gabriel to join Team Freewill since Changing Channels. And had they let Gabriel join in this episode and help out for the next two and then face Lucifer and have this exact moment, I would have been blown away. But here? I. do. not. buy. it. I'm sorry guys, I know everyone loved this so much...nope. Fandom tends to forget, since he is such a fun character, that until this season he was NOT a sympathetic one. What he did to Sam in Mystery Spot? Broke Sam beyond repair (I really think he was a complete person capable of healing in ways Dean never could have had until Mystery Spot. After Mystery Spot, I do not believe Sam capable of Loving anyone but his brother, the way Dean has been their entire lives.) and was responsible, probably more than any other single cause (excepting maybe Ruby), for what happened to him the summer Dean was gone. For thousands of years, Gabe killed humans for fun. Suddenly he's going on about how beautiful they are? What made you change your mind, Gabe? He didn't get to see the beautiful Sam Winchester we've been seeing for a few episodes now who had all of that faith and goodness. He saw Sam become exactly what he said he would become in Mystery Spot. He had the *bad things* he believed in confirmed, hence his wanting them to play their roles in Changing Channels and while, yes, Dean's speech to him at the end of that episode may have given him a new perspective, you cannot expect me to believe he turned into someone who believed the things he was saying that quickly. Pacing--as usual you are doing it wrong, Show.

And I know that all of fandom is shitting itself over Gabriel being dead, but that was the only part of this episode that registered with me on an emotional level. Lucifer's genuine sadness over having killed his brother after we just watched him do those awful things to the other without batting an eye was BEAUTIFUL. Mark Pellegrino really owned this episode and I LOVE THE CHARACTERIZATION ON OUR LUCIFER SO MUCH. How, after watching him do those things, do they still manage to make him sympathetic in a moment? A++ all around on that. I loved that the Trickster could not fool Lucifer. He is not to be meddled with. Aweeeesoommeeeee.

Though at this point I kind of had to wonder...were Sam and Dean in this episode?

Leaving a message in porn was a cute touch. Loved the 69 on the door. I am going to have to start paying more attention to doors because this is the second week in a row!

NOW! Here comes a big ol' rant. I am NOT ACTUALLY WORRIED ABOUT THIS. Olivia talked me off the ledge. When I first watched this episode, I was done caring about how this season ends because of the solution Gabriel offers in the video. I will, if it happens, still not care and I'll probably not be able to watch Season 5 anymore. That's not me saying "ZOMG! I WILL HATE SHOW!" or "I'M SO LEAVING FANDOM." No matter what happens (excepting some kind of real freak fuck up that I trust this Show too much for), I will still be so, so, excited for Season 6 and for being oout of this Apocalypse. I just can't imagine how the fuck we are supposed to care about the Apocalypse if it ends like that. Now, as my beloved girl pointed out, Kripke has never in his life introduced the answer to the problem four episodes before the end. But I am going to put this in writing for future reference, just in case it becomes necessary.

If this show sends Lucifer back to his trap and does not kill him, I will never, and I literally mean never, forgive it.

1. The Boys started this Apocalypse. Yeah, I know, by accident. But if the end result is that they set things to exactly how they used to be only with a couple of thousand people dead in between--all of that blood is on Sam and Dean.

2. If you psych us up for an entire season about how we're going to kill the devil, and in the end do not kill the devil, there is NO WAY ON EARTH your season finale will not be underwhelming.

3. The demons managed to trick Sam fucking Winchester into opening the door. Sam Winchester is a *really good person*, guys. A really good, stubborn person. If HE could be tricked into falling, I'm sorry, they will be able to break the next person who gets some demon blood in them and wins a death match. So. We've got that asshole letting Lucifer out of his cage in however long that takes, a hundred years, a thousand, whatever. Lucifer is free and there are no Winchesters to stop him. If the Winchesters were not good enough to kill him, who the fuck is? And if those guys exist, why aren't we watching THEIR show? So basically locking him up saves people for a few hundred more years and then Lucifer gets out again and toasts the planet as easily as he turned your neighborhood pagan gods into modern art. Not a happy ending, family.

4. SAM WINCHESTER--keep in mind this is a Dean!girl saying this, okay?--SAM WINCHESTER NEEDS TO KILL THE FUCKING DEVIL. HE NEEDS TO. He will NEVER forgive himself, he will never be redeemed and FUCK ME IN MY EYE SOCKET IF THAT KID DOESN'T DESERVE SOME FUCKING ABSOLUTION, JESUS FUCKING GODDAMN.

5. JUST NO, OKAY? We already have two of the rings and we're going to get the next two and skip merrily into the sunset? COP THE FUCK OUT, BITCHES, I WILL DEVELOP STAGE FOUR STOMACH CANCER.

And that's how I would feel about that if it were going to happen, which it isn't.

What the fuck with the horsemen flashbacks? Isn't that what recaps are for? Maybe if you people had put something useful in this week's recap and trusted the fact that we've been watching the Show for 5 seasons you wouldn't have to spoon feed us like toddlers.

Pestilence was so unnecessarily disgusting. DID NOT LIKE THAT AT ALL. I actually thought I might throw up for a few seconds there. I'm not really sure how I'm going to sit through an entire episode about him.

THOUGH I AM GOING TO LOVE NEXT WEEK'S EPISODE SO HARD, OMFG. I will not be spoilery now. But know that I am *SO READY* for it.

Hey, that commercial? Surprise!Jeffrey Dean Morgan!!! I don't know about you guys, but I was fucking surprised.

And yeah, this entry is really late and nobody cares or wants to talk about this episode anymore. I blame the demon lady, she needed me to help her go shopping to get things to cook her babies with.