\O/\O/\O/\O/ WE MADE IT TO 100, BITCHES!!!! \O/\O/\O/\O/



POINT OF NO RETURN SQUEE POST!

See this? THIS MEANS THEY'RE EROTICALLY CODEPENDENT SOUL MATES. This means I swear I can talk about other stuff, too! Except no, not really.

First of all, I just want everyone to be clear, I *KNOW* this title is not a Phantom of the Opera reference. I am mature enough to not get giddy making the connection. BUT OMG, SHOW TOTALLY SHIPS ERIK/CHRISTINE.

LOL. The Zach in the bar scene was genius. Him and that guy talking and that guy just. not. getting. it. And then they became BFFs. And Zach bought his friend a drink. In conclusion: Gay Lovers.

DO NOT WANT EPIC HEAVEN BACKUP PLAN. Especially not if it makes Zachariah look this giddy. I thought for a second they were going to smite Zach. Well, Heaven was. But Heaven does not kill Zach. I know how that guy dies. I was watching.

Dean packing for his suicide mission! I will discuss later in this post how much I love his determination about this. Right now I will just say that the characterization on this kid is flawless. The way he hesitates on those keys. Don't let your car go, Deancakes.

You're right, Olivia. I'm listening right now and the music they used for this scene is really stupidly happy.

SUICIDAL LOVE LETTER TO HIS BROTHER. Okay, it is definitely being written to Sam, better eyes than my own have confirmed the "Sammy" in the last paragraph. But I want to be able to read MORE. At least the last bit that's clearer! SOMEONE HAS TO HAVE THE SOFTWARE CAPABLE OF THIS, RIGHT?

Dean's handwriting is firm and manly. If I could have sex with one person's handwriting, it would be Dean's :)

This is the first time I made the "Mmm, Jensen looks good" comment in my notes. I will spare you most of the rest of them. But please know--I mean, the guy is always damned flawless. But this was something else.

"How'd you find me?" -- Are you fucking kidding me, Dean?

SAM SEES WUT U DID THAR, DEAN. I like to call this scene "The First Time in the Hundreth Episode That Sammy Lacked Flaws". There are as many scenes with titles like this in the episode as there are scenes Sam Winchester is in. Fact. I counted three times.

I love how grown up Sam sounds in this scene.

"How is Lisa?" --
1. Sam knows his big brother SO WELL. He knows about Dean's secret shameful desires for a normal family life, and he gets that Dean feels like he has to leave Sam to get that.
2. Jealous-girlfriend!Sammy rears her beautiful, silken-tressed head once more.

SAM ADMITTED HE WAS WRONG TO GO AND DEAN IS TOO FAR GONE TO CARE. SOMEBODY PICK UP THE SHARDS OF MY HEART. THEY BURN ME LIKE FIRE WHEN I TRY TO TOUCH THEM.

And Sam's lost face when Dean asks him what Bobby is working on. Like "Please, just play along with me." He is so fucking sad. I want to keep him, oh please, can I?

Sam's stung little face when Dean made the demon blood comment. So subtle, but totally there. A++, Jared.

Wow, I had seen so much of this episode before it aired. Like...they let the entire first ten minutes leak.

*sigh* Hi there, Batman voice. You haven't been this serious in ages. I will kill myself now. I hope you're happy.

RANDOM: A little note popped up at this point informing me that I was watching Supernatural's 100th episode. FUNNY STORY, ACTUALLY. I WAS WATCHING SUPERNATURAL'S 100TH EPISODE.

RE: Cas's headache--VOLDEMORT MUST BE CLOSE!!!!11!1!11!!!1
...Sorry, guys. I didn't watch Season 2 live. I never got to make those jokes with Sam.

Good job on the resurrection continuity! I like!

Dear Angels Trying to Kill Castiel,
Your boss probably didn't tell you. Cas learned how to fight from Sam and Dean Winchester. Translation? You're really fucked.
Cheers!

"I'm gonna get a beer, do you mind?" - Oh, do we always ask permission, Dean? That would officially make Sam the worst mommy ever. Much worse than Deancakes.

"Your brother Adam?" - I like it! Bobby knew about Adam. Shows John confided in Bobby before their falling out. I didn't expect it but I'm not surprised, and I like it.

Wow. When did Adam Milligan's balls drop? He sounds like a MAN.

Aww! His Heaven is prom!!

"Sounds like Heaven to me. Did you get to third base?" - Poor Dean hasn't gotten laid in so long. This is oral sex joke #1.

"Maybe they wrongly assumed Dean would be brave enough to withstand them." - ZING. OH, CASTIEL. HOW I LOVE YOU LIKE THIS.

"You know what? Blow me, Cas." - Oral sex joke #2. You know what Sam really immediately says "No!" to? It's this suggestion. It's okay, Sam. Castiel does not understand this reference.

I love how fast Sam figured out the angel's M.O. Sam is actually a fucking genius, did you know?

Wow. Because they're angels. I understand what you're going on there, Adam. But trust me and Spock when I tell you, your logic is extremely fucking unsound.

AT THIS POINT, SOME BITCHES KNOCKED ON MY DOOR AND TRIED TO SELL ME DOUGHNUTS. TONIGHT. DURING THIS EPISODE. I...umm...I have been more polite about things in my life than I was when I opened the door.

"We're going on the Power of Love right now."
"How's that goin'?"
"Mmm, not good."
AHAHAHAHAHAHHA. BROTHERLY BANTER. YES. I LOVE THIS KID. SNARKING WITH THE DEANCAKES. YES. HE IS A WINCHESTER, YA'LL.

"Because we're blood." - Because you lack flaws tonight, Sam.

Aww, Adam's love for his mommy is so sweet. I understand where you're coming from, gum drop! And so do Sam and Dean, poor Boys. But! On a totally motivated note: Adam does not see his mother in Heaven even though she is clearly the person he loves most in the world. Even though we can assume he is the person she loved most. This obviously means that the Soul Mates thing really does have a Romantic condition. Sam and Dean are soul mates, and soul mates are Romantic. I'm a shark, I'm a shark! SUCK MY DICK. I'm a shark.

"If you have one good memory of dad..." - You have many good memories of Dad, Sammy?

Sam is ever vigilant, but thanks for trying Adam. You've got a nice, fighting spirit. This Show is going to BREAK you.

"Dewey eyed bromance." - SAM'S DEWEY EYES. <3_<3

Adam complaining about cooking his own meals and him being willing to take anything. Wow, kid. You are so wrong. I am so glad that Sam is so mature and does not take this bait. I get the parallel and I'm very sad for you, Adam, but you are so incredibly wrong about this and Sam made a "I should really defend mommy!Dean right now." face but he didn't, because he was too busy being mature and non-confrontational like we have never seen him be in our lives.

"If we'd known we had a brother--" - "You'd be incestuous, too."

Adam really does fit in. I like it so much. I'm so excited that we got to meet him, the real him. I think the way they're using him is really brilliant.

"The last person who looked at me like that--I got laid." - I don't even care that there are so many Dean/Cas jokes in this episode. They are hilarious and Sam literally snaps at all of them. After this one? "WHY DON'T YOU GO BABYSIT ADAM, CAS."

I won't lie, I kind of really adore the tables turning here and Sam having to shut Dean in the panic room.

Dean's speech here about being tired? Excellent Croatoan parallel! It's the opposite of that speech in the doctor's office. I adore than Dean will always give up on life when he loses Sam, even if now he thinks he's losing him to Satan and is thus he's losing Sam to his own doubts about him, which makes him give up on more than life. It still really says a lot about their Love.

Also really liked that Dean said he's tired of running from who he's supposed to be, which is such a Season 2!Sam trauma. All these links to Season 2? ...ask me if I'm ready for Season 6.

OH MY GOD. DEAN. YOU REALLY BELIEVE THAT. YOU BELIEVE SAM IS GOING TO SAY "YES" AND YOU WANT TO SAY "YES" TO MICHAEL TO STOP HIM. Something is broken in you.

"Don't say that to me. Not you. Of all people." - I LOVE SAM SO MUCH. His character is so well done, also. I love that Dean's assurances when he was growing up are what made him believe in himself, I love that no matter how many hurtful things Dean says or does, it will always still sting because he depended on Dean's belief in him for so long. He is such a little brother.

Ok! So. Even though Dean is failing at this point in time, seeing him this determined about saying "Yes" is wonderful. He has his erection back! This is more than he's tried for anything in two years. The packing, escaping from the panic room--and now? Now he's got his hope back, and he is going to put the OLD DEAN WINCHESTER SPIRIT into KICKING SOME FUCKING ASS. Also, I think it's kind of awesome he used that Angel-Be-Gone on Cas.

Handicap joke, Bobby! Alright, Show! I never get tired of you failing at being PC. :D

Adam and Zach doing the park bench thing that a bunch of Dean/Cas shippers used from Season 4. If you use that scene to ship Disastiel, you may now feel free to be obligated to ship Adam/Zach. Have at it, BBs!

"Sam and Dean Winchester are psychotically, irrationally, EROTICALLY codependent on each other."

...

...

...

EROTICALLY CODEPENDENT!!!!! \O/\O/\O/

Oh, Zachariah. Save your judgmental tone. You're not here to condemn. You're just here to confirm. And you are doing a fantastic job, mi amor. Oh, fanservice. I do so love you.

"When the heat gets hot, they're not gonna give a flying crap about you. Hell, they'd rather save each other's sweet bacon than save the whole planet." - Sam and Dean actually really do think of each other as sweet bacon.

"You pray to loud." - YOU GQMF TOO LOUD. <3_<3

Yes. Yes, Castiel. KICK HIS ASS. KNOCK SOME SENSE INTO HIM. Castiel officially won his night in bed with the Winchesters. I don't even care. I'll pretend he can have sex and ignore the Jimmy consent issues. I don't even care.

"What the hell happened to him?"
"Me."
HELL TO THE FUCK YEAH, YOU BADASS SONOFABITCH.

They were pulling your dick to get to Dean, genius. You're bait. How does a hearty dickslapping feel, Adamsauce?

"You're not so much the chosen one as you are a clammy scrap of bait." - Always so sensitive.

"Hey! If it's any consolation, you happen to be the illegitimate half-brother of the guy we really care about." - Oh, Zach. You should work for a greeting card company or something.

"We didn't lie. We just avoided certain truths to manipulate you." - Wow, show, seriously? First you have him say they're erotically codependent. Then you have him confirm that he didn't lie (when you could have just left it at that, we would take it for granted and the deniers would be all "He was lying!" and everyone would win, but you confirm it just for fun) and he has no reason to not be telling Adam the truth...I...just...I LOVE THIS SHOW!!!!!!!!!!!!! He used that to manipulate Adam by making it sound like a bad thing. But he DIDN'T make it up.

"Winchesters have 1 blind spot and it's family. Sam and Dean will put aside their differences to come get you." - I really love when other characters make accurate observations about the Boys. Because even if he treats this as a joke, it's true and it's beautiful.

Ah! Of course! Sam wants to talk about feelings. Oh, Sam.

"Don't piss off the nerd angels." - LOLOLOL.

I love this entire scene. So much, I maybe can't put it in words. Their conversation sounds so real the entire time. It's so natural. And Sam. Oh my God, Sam. He's perfect. He's so mature. He just wants to talk and he will not take ANY OF DEAN'S BAIT for a fight. I just. He's going to save Dean. And they're going to save the PLANET.

SAM IS TAKING YOU WITH HIM. I love that Dean doesn't get it. Tells Sam why he's wrong to do it. Ad Sam just. keeps. on. believing. Nothing can shake this kid's faith in his big brother. I just. THEIR LOVE.

"You're the only game in town." - Hee hee. Dean is "game" to Sam." */four years old*

CAS AND BOBBY DON'T BELIEVE IN YOU. BUT SAM BELIEVES. SAM WILL ALWAYS BELIEVE. I mentioned I really Love Sam Winchester, right? And that he was perfect this episode? And that he believes and I love that about him? I THINK I LIKE THIS SAM MORE THAN SEASON 2!SAM. THERE. I SAID IT.

"Either it's a trap--" IT'S A TRAP!!! "--to get me there to say yes, or it's not a trap and I'll say yes anyway."

BUT UH UH, GIRL. BECAUSE SAM KNOWS DEAN WILL MAKE THE RIGHT CALL. AND DEAN EVEN SAYS HE WOULD DO IT DIFFERENTLY. BUT SAM TAKES BIG CHANCES ON HIS BROTHER. HIS BIG BROTHER. WHO HE LOVES. AND OF COURSE HE WAS RIGHT. No, stop it. It's like Christmas over here.

Wow. Those cuts Cas gave Dean on his face. As if he wasn't already looking too delicious to be real. Stop it. My vagina can't handle this madness.

I did NOT think the Green Room was on Earth. I get that it had to be for the purposes of this episode. But I still think it's really weird.

CAS TAKING OFF THE TIE. ALRIGHT. READY TO GET HIS HANDS AND TRENCH COAT DIRTY! \o/

"But then I won't have to watch you fail. Sorry, Dean. I don't have the same faith in you that Sam does." - NOBODY ON THE PLANET HAS THAT KIND OF FAITH EXCEPT MY SAMPANTS IN HIS BIG BROTHER. OMGOMGOGMGOMGOGMGOGMMG.

Cas on a suicide mission makes Elisa a saaad panda.

WHAT ARE YOU WAITING FOR? AND THEN THE CHEST THING. OH, CASTIEL. STOP KICKING ALL THIS ASS. IT'S NOT NORMAL.

"Did you really think it was going to be that easy?"
"Did you?"
BOYS WORKING TOGETHER AGAIN. YES. FUCK ME. TENDERLY. YOU JUST DID.

I will never get tired of hearing Dean crying out "Sam!" in that worried tone. *_*

Ok. So. This is going to sound really weird. But this is what I saw, and it's my squee post, so blow me. Dean's face when Zach first starts hurting Adam? When he says "Let him go, you son of a bitch."? He makes a face. A face I have only ever seen mothers confronting people who are threatening or insulting their children make. It's in the eyes. I can't explain it. But will someone watch that second and tell me you see it, too? Mommy!Dean will always take care of his little brothers!

I love how intense Dean's worry about Adam was. And how exponentially worse the concern on his face got when it was about Sam. It washed over him. It was beautiful. Jensen really knows what he's doing. And how worn down his voice sounds here, like he still can't believe how awful Zach is, that things that bad are allowed to happen repeatedly to his little brother. My Deeeaaaaannnnn. Mine.

"Call Michael down, you bastard." - His voice cracks. Like, so perfectly. I just. This episode is a fucking triumph for Jensen's acting. And Jared does a good job, too!

SAM'S BROKEN FAITH WHEN HE THINKS DEAN IS REALLY GOING TO SAY YES. HE CAN'T EVEN LOOK AT HIM. He is mouthing something to Dean and I've tried all the obvious solutions "What are you doing?" etc and I still can't figure it out. I REALLY WANT TO KNOW WHAT SAM IS SAYING TO HIM.

I SEE THE MOMENT WHEN DEAN CHANGES HIS MIND LOOKING AT SAM. Watching the scene in retrospect. You literally see his mind shift.

...I don't think I have every been as sexually attracted to anything as I was/am to that incredibly sexual smirk and wink. That Dean does at his brother. I know I speak in hyperbole a lot, but I want you all to know that I have been searching my brain for an exception to this all night and I am still empty handed. I spent probably about a collective hour tonight by this gif: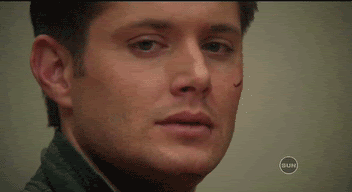 He knows EXACTLY what he is doing to his brother. That is not a "I got this" smirk and wink. That is a "I'm going to take you home and fuck you" smirk and wink. After all this time with no erection. Dean Winchester is topping tonight. And Sam? Sam wants him to. It's going to be a beautiful thing. And the cuddling that will come after. Oh, the cuddling.

AND THEN DEAN HAS CONDITIONS. OH, DEAN. His face on this line. Self-assured. In a way we haven't seen Dean for years (maybe ever? Dean's confidence is usually a big ol' front). It's not cocky. It's getting business done.

"A few people whose safety you have to guarantee before I say yes." - A few people. Not a couple. Not Lisa and Ben. Lisa and Ben and everyone else we've ever saved. Because Dean Winchester can't stand letting the people he's saved die anyway. Because he has the most beautiful heart to ever pump blood.

"Before Michael gets a piece of this sweet ass, he has to turn you into charcoal." - THAT'S MY DEAN, THAT'S MY DEAN, THAT'S MY DEAN.

DEAN'S THRILL ON CALLING ZACHARIAH EXPENDABLE. WHERE HAS THAT DEAN BEEN? WHERE HAS HE BEEN? I HAVEN'T SEEN HIM. OH, BUT THERE HE IS. THAT'S HIM. RIGHT THE FUCK THERE. Bring it on, Angels. Bring it on, Apocalypse. Bring it on, laws against incest. DEAN WINCHESTER WILL TOPPLE ANYTHING YOU THROW AT HIM. BECAUSE HE CAN'T STAND SEEING HIS BABY BROTHER LOSE FAITH.

Ok. I'm a little shaky on Dean being able to kill Zach. Is this because he is a servant of Heaven like we learned last week? But I thought that was only because he'd made up his mind to say "Yes"? Then I thought "Ohhhh, is Castiel in there?" No. So...we can just stab angels now? Seems kind of like an easy way out after all this hardship.

All the same. HOLY FUCKING EPIC. DEAN WINCHESTER KILLED ZACHARIAH. I am going to miss Zachariah, I won't lie. He is by leaps and bounds my favorite baddie in the history of this show. But I will sleep better at night knowing he's dead. And he looked fucking COOL stabbed out like that.

...also...Dean killing Zachariah this way this week kind of Kripke's the amulet!porn I posted the other day. FOR THE WIN? \o/

Fun fact Olivia pointed out: Dean runs to Adam. Asks if he can walk. Then immediately runs off for Sam and escorts his bigger brother who was bleeding for less time and has been dealing with serious physical pain his whole life out. In conclusion: Erotically Codependent.

ADAM GOT TRAPPED INSIDE. POOR ADAM. HE IS SO EPICALLY MICHAEL'S MEAT SUIT NOW. OIFFOSIJGDOFIJGDF. THEY ARE GOING TO HAVE TO KILL THEIR BROTHER. JUST WHEN HE WAS FITTING IN SO WELL. AND POOR ADAM IS GOING TO HAVE TO LIVE AS A VESSEL UNTIL HE GETS THE MERCY OF BEING KILLED. MY GOD, I WAKE UP EVERY MORNING A LITTLE HAPPIER THAT I AM NOT A WINCHESTER.

RE: Vampire Diaries commercial -- Sure. Promote that show. It's like the channel goes out of its way not to promote Supernatural, because THERE WERE NO "TONIGHT, THE 100TH EPISODE OF SUPERNATURAL!!" commercials. THE HARDER YOU PUSH OTHER SHOWS, THE MORE I WILL HATE YOU ALL.

FINAL CAR SCENE. PERFECT. THAT SCENE WAS WITHOUT FLAWS. KIND OF LIKE SAM WINCHESTER IS THIS EPISODE. It was so THEM. It was so RIGHT. It was. Everything I could have dreamed of. And I did not expect to come out of this episode happy. But, oh. I did.

I'm...uhh...pretty curious about where Cas is. And a little worried. I'm sure he's not dead. But. I mean, I'm sure Adam is Michael's muppet now. But I would like to know what happened to my GQMF angel.

"I saw your eyes. You were rocking the yes." - THEY KNOW EACH OTHER SO FUCKING WELL, I CAN'T EVEN TAKE IT.

He literally said his reason for fighting was that he didn't want to let Sam down. He said it out loud. No machismo bullshit. I am in such a good place. His little smile on the damnedest thing. Like he's proud that it was Sam who made him change his mind.

And then they are so brotherly:

"The stupid son of a bitch brought me here. I just didn't want to let you down."
"You didn't...You almost did! But you didn't."
LITTLE BROTHER!SAM. HE IS JUST THE BEST EVER. THIS WHOLE MOMENT. A FLAW, A FLAW, MY KINGDOM FOR A FLAW.

Dean aplogizing. SAM TRIES TO GIVE HIM A WAY OUT. AND DEAN INSISTS. DEAN DOES. ♥_♥

And then how much did I flail when Dean was explaining to Sam how he was protective over Sam (and the phrasing on it was so cute and big brotherly and just !!!) but now he realizes he has to respect Sam? First of all, because the way he said it was so beautiful and Dean-self-conscious ("I mean, hell, if you're grown up enough to find faith in me..."). Secondly because my ONE complaint about the ship is that they weren't quite equals because of the way Dean always put Sam first, didn't want to let Sam do thigns for himself because he's too petrified something could happen. But now he sees that they are equals. That they are adults. In an adult relationship. Who Love each other and who are finally, FINALLY going to make that something that works in their favor. One of my top favorite Supernatural moments ever, not even kidding.

"So screw destiny right in the face." - WHAT A CHARMER. And, of course, Sam loves it. BOYS BEING BOYS!!!! <3_<3

I also really lied this music cue. So pumping. I am so pumped. I'm so pumped to be together, and healthy, in Love, AND READY TO ICE THE FUCKING DEVIL.

Funny reactions from my family:

Me: Hey mommy! EROTICALLY CODEPENDENT.
Moomoo: I almost called you as soon as he said that, but I figured you would kill me for interrupting.

My mother has to be at a wedding in Orlando tomorrow. They are leaving from my cousin's house, which is about two and a half hours from our apartment. They offered to come and pick her up earlier tonight. She refused and instead left on that journey at 11 p.m. after a full day of work. Her logic?

"I couldn't exactly watch it with them--how am I supposed to explain to your father's religious nutcase family that the brothers have gay sex and the angels are the bad guys? And it's not like I was going to miss the 100th episode."

...I RAISED HER SO WELL. *dabs away tears of pride*

And then Grandma (again, this is even funnier in old Cuban lady!voice):

"I was so tired when the show started. But now I am not tired. I cannot sleep. I have to go oout and kill the bad guys."

My grandmother wants to be a hunter. I never thought I would say this, but I think I kind of like her. It's her responses to show lately. She doesn't even get it, but she keeps watching and she always says something awesome. I...How am I supposed to hold out against that? I don't even like babies, what's it to me if she eats a few?

In conclusion: Erotically codependent homosexual soul mates of the incestuous variety.

On a sadder note, this episode officially made me run out of notebook! I have been using this notebook for a year and I've always dreamt of filling up an entire notebook, but why now? I can't afford a new composition notebook! WHERE AM I SUPPOSED TO PLAN MY LJ ENTRIES AND TAKE NOTES FOR THE NEXT 4 EPISODES? RIDDLE ME THIS, UNIVERSE.