Fallen Idol Squee Post!


Wincest is underlines, avoid the underlines, avoid the incest.


Ok, that recap was entirely too epic for the episode I thought I was getting tonight. Pls no moar to pain?

OMG. DEAD MEAT OPENING SEQUENCE. It felt like the old days and so warm and fluffy! It's just your everyday hunt, kids! *psyched* And a "thank you" to the prop department! That head on the windshield wasn't at all way too vivid and the kind of thing that will scar me for life!

Me: Oh, good! Another evil car. Maybe it hates you because you're black. LOLWUT?

I see an empty road. I feel like something must be driving up that empty road...OH YES, METALLICAR IS BACK IN BUSINESS AND WHAT'S INSIDE? MY. BOYYYYYYYYYYYYYYYYS. Oh, familiar, how I love you. I love how they are going completely out of their way to do everything under the sun to make this feel like an old episode.

Dear Dean Who Treats Sam Like Garbage,
Yes, we know you're topping this month. Please calm down.
Love,
Someone Who Doesn't Want You to Ruin the Sex You Have With Your Brother

But then he said "WE need training wheels." and I was all OMG. HE'S "WE"ING THEM. And I was like "look at us, healing together."

Dean geeking out over a car, oh BOYYYYYYSSSSS. You know he has a mancrush on James Dean and only half of it is because he wants an excuse to cry his own name out during sex. *thumbs up*...right Dean?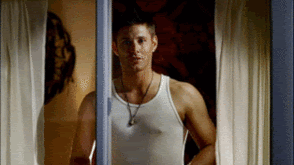 Alright, Dean. Don't get so testy just because Sam caught you masterbating under the car. He was only trying to offer a helping hand.

LOLOLOLOLOL. "Are you at a bar?!?" IT'S THE RETURN OF JEALOUS GIRLFRIEND!SAMMY!!! WUT WUT?

How do you kill a ghost!Abraham Lincoln? You build a ghost!John Wilkes Booth!

At this point into the episode, my commentry was reduced to "Pritty! Jensen is so pritty!" They both looked SO GOOD this episode. I stand by the obvious reason for this, swallowing your brothers semen is giving you all kinds of vitamins to keep you nice and strong.

OMG, I SO KNEW THEY WERE GOING TO GO THERE WITH SAM SPEAKING SPANISH. BECAUSE HE TOOK EVERY CLASS STANFORD OFFERED AND THIS IS ONE OF MY FAVORITE JOKES IN THE FANDOM. LITERALLY, LIKE TOP THREE.

Ok, and them exchanging faces at eachother while talking to that cop made my day. THEY'RE JUST ACTING LIKE BROTHERS AGAIN. MY BROTHERS. MY BOOOOYYYYSSSS. This is exactly what I wanted out of this episode.

Nite Owl motel? \o/ Kripke totally read The Incestuous Courtship of the Antichrist's bride and was all for making Watchmen jokes.

IT'S MUY, DEAN, NOT MUCHOS. I dirty talk Sam Winchester en Espanol...and he understands me better than I do.

I saw the JFK wax figure and was totally hoping it would come to life. OMG. SAM'S IDOL SHOULD HAVE BEEN JFK, NOT GHANDI, BECAUSE HIM AND DEAN HAVE SUCH A JFK/RFK RELATIONSHIP AND YES, I MEAN THAT IN EXACTLY THE FUCKED UP WAY YOU THINK I DO.

Dear Sam: When pretending to write for a travel magazine, be a little more gay. It's ok, you're not already suspicious to begin with. And tell your brother to shut his pretty (pretty, pretty, pretty) mouth--"Wax museums totally don't suck!" How do people never pick up on what a cunty bitch Dean is?

AND THEN DEAN DID THE DEAN SMILE. YOU KNOW THE ONE, GUYS. WE HAVEN'T SEEN IT SINCE SEASON 3.

But of course, it had to be spoiled by teenage bitch!Dean playing shitalke time on the phone with Bobby. Though I honestly think he was talking about both of them and only responded so hostile because Sam came in guns blazing and he was being defensive and BROTHERS ARE ALLOWED TO HAVE STUPID FIGHTS.

I know that Cas could have been the person on the phone, but I really don't think he was and will be annoyed. Mostly because Cas blames both of them for what happened and I dunno, I just won't believe it unless they force it down my throat. I missed him this episode, but I get it--they were working really hard to make this feel like an old episode because we needed it as much as the boys did.

On Abe Lincoln: Dean put that hat on and made an Abe Lincoln joke. Secret history nerd, for the win. And hey, Sam, you're getting awfully close to Abe Lincoln's face, are you looking for a kiss? I guess it's hard find a tall guy when you're Sam Winchester and you have to take whatever you get.

And Sam is taking a fight with Ghandi seriously. *facepalm* Sam idolizes Ghandi! What a nerd! What a cutie pie! He was a total stereotype of Sammy in this episode, but I don't care, I adored it.

Oh, good, a confrontation! Bottom!Sam is sick and tired of bottoming, and is going to say so! GOOD FOR YOU, BOTTOM!SAM! No, I'm really so so proud that Sam went ahead and said these things, as much as I hated hearing them, because YES HEALTHY IS HEALTHY. Also, my porn totally got Kripke'd this episode. Sam is punishing himself and DEAN ONLY THINKS HE WANTS TO PUNISH SAM. BUT REALLY, THEY WILL HOLD HANDS AND SKIP MERRILY INTO THE SUNSET SOON. And yes, Dean, you have to let Sam grow up. Because I really Love you guys, and you trying to protect Sam's innocence is one of my favorite things about Season 2!you, but it's what led to the break down when you went to Hell and once we start acting like equals, we're going to be so, so okay, the both of us. Really, it'll be great.

Ok! Ladies and gentlemen, I am officially a sick, sick human being. Sam Winchester is disecting a human. His hands are INSIDE OF A HUMAN. All I can think is that those rubber gloves really bring out the gorgeous shape of his hands, and when his arms were sturggling in there, they were protruding beautifully. IT IS NOT NORMAL TO CHECK A MAN OUT WHEN HIS ARMS ARE STUCK IN SOMEONE'S STOMACH, OK? I HAD AN ORGASM, GUYS, A REALLY GOOD ONE.

Sam said Yahtzee. Which is usually Dean's line. Just a fun fact.

Ah, good. A pagan God, I kind of called that from the word "seed" but it was whatever. I usually really like the pagan Gods and I usually find them really, really scary. I thought this was going to be a funny episode, and it clearly was not--it had funny parts but was a regular episode. But I really liked Paris Hilton!God--sharpening her nails on that thing? Hialrious. I mean, please let's make fun of Jared's career a little more--I liked House of Wax (and so did Dean, just saying) though I found what they did to Jared traumatizing (as did Dean because he couldn't stand watching those things happen to someone who looked so much like his baby brother and P.S. he totally has a Jared Padalecki poster stashed somewhere in that Impala). Anyway, my point is, I think I really enjoy Paris Hilton--she's always really great about making fun of herself and I love what a good sport she is. Her hands are like, as big as Jared's, though, and about 1/1,000,000,000,000th as attractive.

OMG. If she'd turned into Sam's hero, IT WOULD HAVE BEEN DEAN. Because you know even after all of the stupid communication issues, he still idolizes his big brother. As proven by that lovely "let's go down swinging" speech he gives in the end which is SO SOMETHING old!Dean would have said and I loved that Dean was like "OMG, I LUV U <3_<3".

But as much as I love some surprise!JDM, I do not know that this was the place to try to resurrect those daddy issues. Dean no longer hero worships his dad, ya'll. I guess Sam was having none of that. He does NOT want to see daddy again. And he will chop your fucking head off. Sam Winchester don't play.

Hey, faggots, why don't you have a heart-to-heart now? I love how obvious this fucking show is about when they're going to insert a heart-to-heart. I knew before the scene even started that Dean was going to offer to let Sam drive, but it never gets old. Also, Olivia insists that before his nap, Sammy got a little roadhead. I am inclined to agree. Come on, you know that if anyone on the planet has that act down, it's going to be the Wincesters. IT WAS SO HEALTHY. Dean being all "Yeah, but you didn't know" and admitting that it wasn't all Sam's fault, and Sam talking like Dean, and THEM BEING BROTHERS AGAIN and MY ENTIRE DORM BATHED IN MY JIZZ.

RE: SOON

Ok, I don't know how I feel about next week. We're obviously not going to let Cas kill a child, but I am seriously distraught because that must be Azazel's kid and there is someone I never want reproducing. And I feel like he's Lucifer's back up meat suit (because Olivia loves to say scary things to me) and just, can we please kill baby Hitler? But I know the boys won't let it happen, though I'm sure it's the last time we hear from the kid and I just think it will be weird. Whatever, I trust this show. I TRUST THIS SEASON.

The Curious Case of Dean Winchester - Are we still making weird deals? I don't know, let's see what the explanation for this is. I guess Jensen really wouldn't stop bitching about needing a break so they brought in old!Dean, who is a pretty sexy old man, which is good to know. I always want to write old man fic about him and Sam, but I can never picture their godliness old, so this will be good for context if nothing else. I believe in Eric Kripke.

CHANGING CHANNELS. OMFG. NO, REALLY, THIS IS LIKE THE END WHERE I SAW WHAT IT WAS ABOUT AND WAS LIKE "FUCK, CAN WE SKIP THE NEXT TWO EPISODES, I JUST WANT THAT ONE." The sitcome looked so hilarious and just the whole thing. YESSSS. HIGHLIGHT FOR SPOILERS YOU KNOW WHO IS ON THE CAST LIST FOR THAT EPISODE, KIDS? THE MOTHER FUCKING TRICKSTER. I KNEW IT I KNEW IT I KNEW IT THAT WE WERE NOT DONE WITH THAT DELIGHTFUL FUCKER. He is going to be hilarious and SAM IS FINALLY GOING TO GET TO KILL HIM AND I AM SO READY FOR THIS EPISODE. AND KRIPKE'S WRITING IT, TOO? EPIC. I JIZZED SO HARD WHEN I HEARD THIS, I COVERED EVERYTHING FROM D.C. TO THE SOUTH MOTHERFUCKING POLE IN JIZZ. I WILL LAUGH. I WILL CRY. I WILL HAVE SPONTANEOUS ORGASMS. PLEASE, CAN IT BE OCTOBER 29TH ALREADY?


I guess I should go study for that Math Quiz I have tomorrow that I have neither gone to class for or done the reading for? *so fucked*